Smet Construction Services celebrated spring this week by saying goodbye to one of its winter projects and hello to one of its spring projects.
In the punch-list stage was the grand-opening of the new Fox Communities Credit Union which broke ground last fall and was constructed over the winter at the southeast corner of Military and Western Avenues. The new location for Fox Communities (we are proud to say a repeat customer!)  represents continuing development in the Military Avenue business corridor. This new location is the 15th location in the Green Bay area for Fox Communities.
At the ribbon cutting ceremony, Mayor Jim Schmitt welcomed Fox Communities to the neighborhood saying, "This location on Military is a great area. We have a lot of opportunities to elevate the area and this is an example of a great development." he said.
New this spring is the ground-breaking of the Titletown Brewery Expansion written about last December when Governor Walker signed into law Wisconsin's new historical tax credit legislation. Mayor Jim Schmitt pointed out the brewery expansion is the first project in the state of Wisconsin to use the new tax credit legislation and is expected to be eligible for 20% project costs in tax credits. Paul Belschner, CPA, Smet CFO said: "It was a long process to get to this point. These buildings as you can see are challenges and the historical tax credits are essential to bridging the gap to these projects." Paul thanked area Wisconsin Assembly Representative, Chad Weininger, who co-authored and steered the historical tax credit legislation through the Wisconsin Legislature.
Smet is a partner in the project which re-purposes the former Larsen Cannery. Titletown Brewery is expanding its operations into the building and Titletown President, Brent Weycker, agreed with Pauls' comments in saying "Old buildings are definitely a challenge that require more visioning. We worked with Smet on the visioning with the structure and we're happy to be partners with Smet. This is going to be transformed. "
Jamie Blom, with Smet, worked on the project's planning said "I'm glad we've finally begun and look forward to the fall opening of Titletown." The expanded brewery is expected to brew up to 35,000 barrels of beer annually.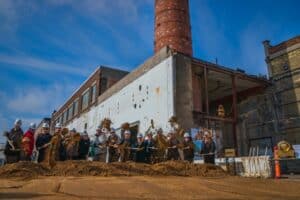 Now that the first project using the historical tax legislation is underway, we are getting acclimated to the details in the new legislation. If you have project that could use some tax credit analysis, give Smet a call. We'd be more than happy to determine if this new legislation will work for your project.
For More Information:                                                                                                                                                                                                   Greg Polacheck
Director of Market Research