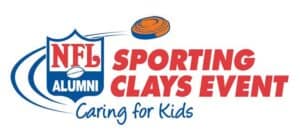 It was a beautiful sunny day with temperatures in the 80's, a perfect day for a fund-raiser with NFL and Wisconsin Badger alumni to benefit the Boys & Girls Club of Green Bay.
This year's fourth annual NFL Alumni Caring for Kids Green Bay Chapter celebrity event had 25 teams all competing for prizes and shooting clay birds on a clay shooting circuit at the Triple J Wing & Clay Club in Brillion, Wisconsin.  Participants were able to mingle and shoot clays with former Green Bay Packers and Badgers greats such as: Frank Winters, Paul Coffman, Casey Rabach, and Bill Schroeder. The afternoon included lunch, beverages, dinner, awards, live and silent auctions, ammunition and NFL Alumni merchandise.
All of the proceeds support the Club Members by providing health and lifestyle programs, sports and recreation activities, junior staff job shadowing opportunities, career readiness training, and hands-on experience within the local workforce. Stephanie Schallhorn, Marketing and Community Relations Manager for the Boys & Girls Club, says the event is "a huge, huge, help in keeping our programs alive. It allows us to provide lots of opportunities and helps with program funding."
Each year Smet helps to organize the event.
Paul Belschner, Smet's President  & CFO, said this year's event raised over $30,000 for the local clubs. Paul said,  "It went well. Everyone I talked with seemed to be having a good time, relating with the players and just out having a great day! We are proud to give back to the community in a meaningful way."
For more information:
Greg Polacheck
Director of Market Development
gpolacheck@smet.com