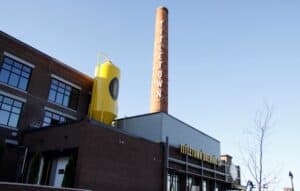 The redevelopment effort at Green Bay's Larsen Green took another leap forward yesterday as the city of Green Bay announced plans to enter into an agreement with DDL Holdings to continue its efforts within the Larsen Green PUD site. DDL Holdings, a partnership between Smet Construction Services Corp. and Titletown Brewery has already redeveloped the first major building in the Larsen Green complex and plans are to build on this successful effort.
The site, a vacant 16 acres adjacent to the existing reclaimed building in the complex, will include redeveloping existing vacant buildings and constructing new buildings to round out the property's reuse. The plan builds on the first part of the project and continues the reclamation theme throughout the Larsen Green project. Titletown's Chief Operating Officer, Jim Kratowicz said: "We have great momentum that we are carrying from the first project and bringing it to the available land next door".
The first part of the project is now up and running with an expanded brewery that contains a "tap room" where customers can sample beers brewed on-site. A roof top beer garden opens later this summer along with a "Public Cannery" that will feature a full sized delicatessen, local cheeses, a variety of meats from local farms, and a variety of other local food products. The building is 100% leased with the last phase, offices, scheduled to be constructed later this summer. The development of the brewery building was the first project to utilize the extended historical tax credits enacted by the state of Wisconsin.
Paul Belschner, Smet's President and Chief Financial Officer who put the plan together said, "We're delighted to be selected by the city of Green Bay to move forward with this part of the project. It shows we have a great track record and they have faith in our ability to get the job done!" The use of the adjacent land is expected to include areas for additional retail and food space, residential apartments, offices and a walkable connection to Leicht Park.
For more information:
Greg Polacheck
Director Market Development
Smet Construction Services, Corp.
920-532-3828
gpolacheck@smet.com