Smet Kicks Off Wisconsin Marine Center for Excellence!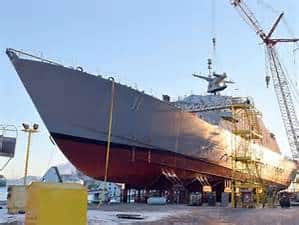 The advance of shipbuilding and the marine construction industry in northeast Wisconsin takes a giant step forward Wednesday at 1310 Main Street in Marinette as Smet Construction Services breaks ground on a 23,775 SF building soon to be home to the Wisconsin Marine Center of Excellence.
The steel-framed building, located on a 2.2 acre site located near Fincantieri Marine which makes the Littoral Combat Ships (LCS) for the United States Navy, will house training, education, and research functions for ship-building as well as space for a business incubator for businesses seeking to collaborate with the marine industry. It will include space for US Navy personnel involved with the LCS program and a newer US Navy program aimed at a smaller LCS ship.
Since its inception in 2003, Marinette has constructed ten of the US Navy's Littoral Combat ships, a mid-level combat ship known as a small surface vessel used in counter-mine activities, humanitarian assistance, disaster response and maritime security. Smet Construction Services was proud to construct the building where the LCS ships are constructed and now is proud to be constructing Wisconsin's Marine Center of Excellence, just down the street!
Kevin Hansen, Smet's Project Manager who has been working on the project for several years said," We're delighted to be selected by the Marinette County Association for Business and Industry to move forward with this project. It shows they believe in us and they have faith in our ability to get the job done!"
The Wisconsin Economic Development Corporation (WEDC) provided a Brownfield grant of $500,000 to fund site clean-up and environmental work needed to turn the former machine shop and coal yard into a viable project. With site clean-up completed, construction now begins with building completion anticipated in spring, 2017.
For more information:
Greg Polacheck
Director Market Development
Smet Construction Services, Inc.
920-532-3828   gpolacheck@smet.com