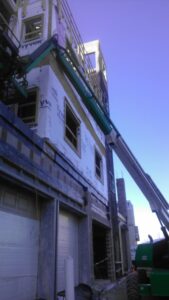 New opportunities in construction beckon for the year ahead. Recently, a review of 2014 by the Bureau of Labor Statistics revealed the construction industry as adding 48,000 new construction jobs in the month of December. Also, the entire year of 2014 saw an increase of 290,000 new construction jobs marking the first time since 2005 that new jobs increased in construction each month during the year. The year ended up with a value of new construction estimated at $951 billion. Further, the BLS estimates that construction spending should continue to increase in 2015 about 9% as our country continues its debatable recovery.
What this means for northeast Wisconsin is that the banks are lending, people are undertaking new projects, some projects have been long awaited, others a response to the more favorable financing markets. Regardless, it is nice to continue to be busy!
At Smet, we've kicked off the New Year by continuing our work on several highly visible projects in downtown Green Bay. First this year will see the completion of City Deck Landing, a 76-unit metro apartment project along the Fox River city deck recreational area. Next the Titletown Brewery expansion continues with the addition of a Public Market adjacent to the new and expanded brewery. Finally, the Backstage at the Meyer should open in mid-year as the Meyer Theatre gets a facelift and new entrance way as its new grand entrance is re-positioned to the corner of Walnut and Washington.
We are excited for the year ahead and we look forward to continuing to serve our customers and new markets in northeast Wisconsin. If you are thinking about undertaking a construction or expansion project, give us a call or stop in and see us. We'll help you to sort through your needs and help you in determining your options.
Meanwhile, here is to your success in 2015!
For more information:
Greg Polacheck, CCIM
Director Market Development
Smet Construction Services, Inc.
920-532-3828
gpolacheck@smet.com