Smet's energy-design program can put you years ahead
The depth and value of commercial and industrial construction management continues to expand at Smet Construction Services Corp.
Whether you are building new, renovating or adding on, some well-spent time in the preconstruction analysis of utility and energy needs can save you tens of thousands of dollars or more per year and provide maximum energy efficiency for your growing business.
What's even better is that for qualified commercial and industrial construction projects the facility energy analysis is free, as is the complete design and installation costs of new HVAC systems and lighting! A unique financing program through Smet will allow you to pay a monthly fee that combined with utility costs reductions guarantees net savings.
"Utility and energy consumption represent significant bottom-line building life cycle costs for our customers." says Scott Smet, president and CEO of Smet Construction Services in Green Bay, WI. "The ability to engineer and finance the most energy-efficient systems in a new or renovated space during commercial construction project management can provide a real advantage for many companies for years to come."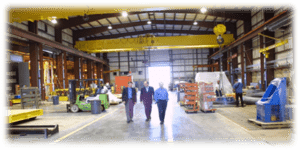 Areas of highest impact looked at before commercial and industrial construction begins
Electrical service– Determining how manufacturing equipment and other facility features impact energy consumption and affect HVAC requirements.
Lighting design– Utilizing the latest fixtures and lighting design to provide the greatest function and efficiency.
HVAC– Taking advantage of the most energy-efficient equipment and design to provide the greatest degree of comfort and affordability.
Thermal insulation– Designing and installing the most effective insulation system for maximum thermal value.
Windows – Maximizing solar and natural light and passive heat permeation in winter and minimizing passive heat in summer through strategic placement of windows and shade control systems.
Providing the most modern and efficient energy systems requires a qualified audit and analysis for an existing building or for new commercial or industrial construction requirements. Smet will engage analysis on multiple engineering levels to provide a thorough and in-depth summary for new design including HVAC, thermal insulation, lighting and windows. All improvements related to energy design can be financed to reduce short and long-term manufacturing costs.
"Whether you're in an old building or building new, taking advantage of an opportunity to update systems to reduce utility costs will positively impact company operations for many, many years," says Scott Smet.
Talk to Smet today about the value of experienced and professional preconstruction planning, so that your new building takes advantage of optimized project delivery.
About Smet Construction Services Corp
Smet Construction Services Corp is a third-generation building contractor specializing in adapting the design-build and construction management project delivery methods. They work to form a unique partnership with their customers in designing and building their commercial, specialized or industrial construction projects.
Scott Smet, CEO
Smet Construction Services, Inc. 920-655-7019
[email protected]