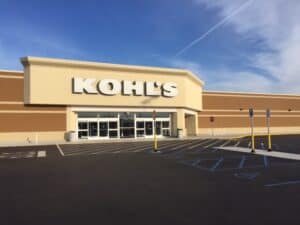 It was a beautiful fall day to celebrate the grand-opening of the latest Kohl's Department Store in Marinette, WI as the new store officially opened its doors to eager Wisconsin and Upper Michigan shoppers. The 34,000 SF retail store is considered one of Kohl's proto-type "small stores" concept especially created for smaller markets in need of retail offerings. The much anticipated store is part of the Pinetree Mall undergoing renovations by Midland Management. The store joins JC Penney's, Younkers, & Applebee's.
Kohl's CEO, Kevin Mansell, said at a recent WWD Apparel Summit the smaller store allows the company to better serve under-represented markets. Marinette is one of those markets, 60 miles from Green Bay, WI and 100 miles from Marquette, MI. The company has opened three small stores in 2016.
Scott Smet, CEO of Smet Construction Services, recently discussed the Marinette market as being an excellent market for business and expansion. "Marinette is an upcoming community with room to grow! This is the third project in three years we've undertaken in Marinette! It's a very nice community to work in." Smet recently constructed a large complex for Marinette Marine, the company building the Littoral Combat Ships for the United States Navy – known as "the building the ships are built in!"
Again, Smet Construction Services has constructed a retail building on time and on budget, just in time for the upcoming busy holiday shopping season.
For more information:
Greg Polacheck
Director of Market Development
Smet Construction Services, Inc.
920-532-3828 gpolacheck@smet.com