Smet Construction embraces the inevitable changes in construction technology
It's only a matter of time. While there is currently not a Green Bay building contractor utilizing 3D printing methods, that will likely change in coming years. Smet Construction Services, Inc. understands that continuing advances in construction technology such as LSAM (Large-Scale Additive Manufacturing) technology are bound to impact the construction industry everywhere.
At the heart of LSAM is concrete extrusion technology, a method of producing physical objects layer by layer from a computer-aided machine guided by digital 3D models. A specially formulated concrete mix allows the process to be fast and the structure to be strong and energy efficient.
Perhaps the most powerful impact of this technology will be for the 1.2 billion people who live without adequate shelter in the world. Already there are plans to build 10,000 homes in El Salvador at a cost of about $4,000 per home.

Benefits of 3D construction technology
Speed— Small homes can already be printed in 48 hours with openings left for doors and windows, and electrical and plumbing infrastructure. Less time means less cost.
Less waste— Precise design and fabrication allows greater efficiency in use of materials for extrusion. Utilizing local and recycled materials can provide additional savings.
Accuracy and Precision— Digital modeling ensures that sizes and dimensions are precise and will eliminate time needed for modifying in the field.
Structural Strength— Digitally engineered structural design provides durability and strength.
Energy Efficiency— Specially formulated concrete provides optimum insulating values.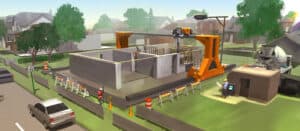 But how will construction in northeastern Wisconsin most likely be affected by LSAM?
"Already we are seeing the advent of automated milling and the prefabrication of framed components for construction projects. Extrusion construction technology will simply add another process into the equation," says Scott Smet, President and CEO of Smet Construction Services, Inc. "It may be that rather than replacing traditional construction, 3D printing will be used to make specific components off-site and on-site."
Certainly, education and training will need to keep pace with new construction technology. Tomorrow's architects and engineers will need to master 3D digital programming skills. Likewise, carpenters and skilled laborers will need to learn to co-work with automated technology.
Smet says that while his company will always embrace technology, it will continue to rely most heavily on its greatest commodity: talented people. "Automated construction technology may provide greater efficiency, but you will always need skilled people for successful projects."
About Smet Construction Services, Inc.
Smet Construction Services, Inc. is a third-generation building contractor specializing in adapting the design-build and construction management project delivery methods. They work to form a unique partnership with their customers in designing and building their industrial, commercial or specialized construction projects.
For more information, contact a member of our business development team at (920) 532-3828 or visit smet.com.
Greg Runnoe at (920) 619-1129 [email protected]
Mark Schumacher at (920) 660-5016 [email protected]