Plan with a design-build construction company before financing
It's common sense, right? You verify that your construction budget can meet and exceed the facility needs that will allow you to prosper and grow. It sounds simple enough. But far too often, companies travel down a costly and intensive path of planning their dream facility, only to find that they cannot afford the dream facility they have been designing with one of the many local manufacturing contractors. Smet Construction Services, Inc., a design-build construction company, can help you stay on track.
It's why a Preconstruction Services Agreement (PSA) is such a vital tool. One of the primary components of a design build construction company is establishing a budget in the very first stages of conceptual planning for a new building or for an addition. It's true; a well-conceived PSA may require an upfront investment for conceptual planning and feasibility. But the money invested will provide a real sense of what can be accomplished within a fixed budget, well before far greater sums are spent to develop site planning and structural engineering.
"Knowing what your budget is from the outset allows us to determine how much building you can get in the final scheme," says Scott Smet, president and CEO of Smet. "For a minimal investment we can initiate preliminary conceptual planning, feasibility and estimating, information that will provide legitimate information for owners seeking to make the right decision."
Without a legitimate budget and a solid PSA, chances are you may end up holding a great set of building plans, a significant bill and nothing more.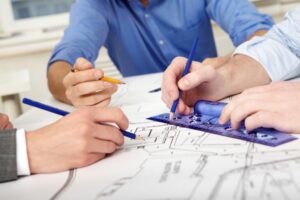 Other benefits of budgetary planning through a design build construction company
A thorough site evaluation by your design-build construction company will not only help determine building-size parameters but can also reveal other unknown costs that will impact your final budget like soil quality, storm-water drainage, utility access and municipality requirements for design.
Budgetary planning can help to provide a cost analysis for leasing versus owning your new building.
Smet can provide access to appropriate equity partners to finance your project.
Smet's team will help explore incentives like TIF financing and other tax credits that can help to defray owner costs.
Well-informed budgetary planning means your valuable time will not be wasted by months of costly design that, in the end, needs to be scrapped or redesigned.
Smet will tailor an agreement that will provide you with all of the critical information that you need at the earliest stages of planning so you can make the best decision possible before investing in more planning costs. Call us today to talk about our experience as a design build construction company and how to best plan a building that will meet your budget.
About Smet Construction Services, Inc.
Smet Construction Services, Inc. is a third-generation building contractor specializing in adapting the design-build and construction management project delivery methods. They work to form a unique partnership with their customers in designing and building their industrial, commercial or specialized construction projects.
For more information, contact a member of our business development team at (920) 532-3828 or visit smet.com.
Scott Smet, CEO
(920) 655-7019 [email protected]